Greg Corke caught up with Adam Jull, CEO of IMSCAD, to explore the rise of the desktop workstation as a dedicated remote resource
---
IMSCAD is one of the pioneers of Virtual Desktop Infrastructure (VDI) and cloud workstation solu tions for graphics intensive appli- – cations, including CAD. The company offers a range of solutions for on-premise, public and private cloud, using a variety of technologies for graphics virtualisation including Citrix, VMWare, Nvidia vGPU and more.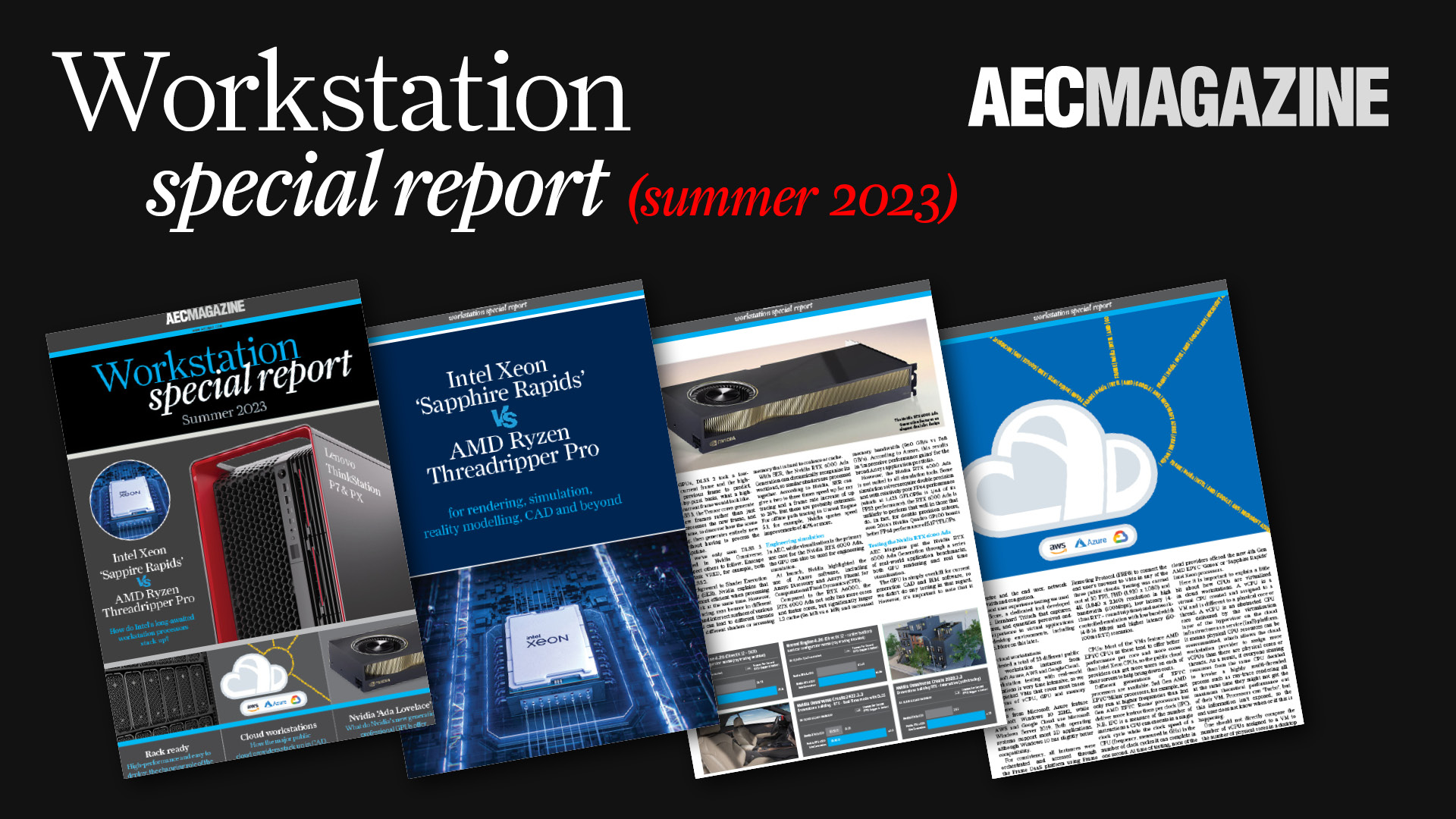 Recently, the company added HP Anyware into the mix. One aspect of this move was to provide IMSCAD customers with a secured, high-performance remote solution that works with desktop workstations, rather than dedicated rack mounted servers. The idea is that rather than getting involved in the complexities of virtualisation, users can get a dedicated one-toone connection to a highperformance desktop workstation. We caught up with IMSCAD CEO, Adam Jull to explore what this means for design, engineering, and architecture firms.
---
Greg Corke: The industry has been talking about VDI and cloud workstations for the past ten years but, it seems, they've never fulfilled their potential. What trends are you seeing at IMSCAD?
Adam Jull: Since Nvidia launched GRID GPUs many moons ago, the market has seen many variants of how you can virtualise your workstations with VDI or run them in the Public Cloud, but to date the number of firms running their desktops this way is still low. At IMSCAD, we have more enquiries for these types of solutions from the US, where we have over 50% of our customers.
In the UK and across Europe I would guess uptake of an implemented hosted or VDI solution is no more than 10%, which is, of course, surprising especially after Covid and the move to more flexible working.
The reasons are down to complexity and cost, the desire of users to have the best possible performance. Running from Public Cloud can have the issue of latency and the CPU clock speeds. On-premise VDI can also be tricky, although this is still the most common approach taken by our customers. We have delivered hundreds of these on-prem VDI solutions. As long as you engage your users, this way will deliver the required performance.
Traditional workstations [configured for remote working] just work. OK, let me rephrase that – they work well 95% of the time.
The feeling was that five to six years ago VDI and Cloud would take over the traditional workstation market, but this has not been the case. Applications are getting bigger, more demanding workflows with VR, AI, visualisation, and digital twins. I also have to say the OEMs have done a great job improving and evolving their range of hardware options for specific workflows.
The other factors are around cost. Public Cloud is great for some things but for GPU-based desktops, it still is very expensive. If you want to run a Private Cloud with your own physical servers but hosted in a datacentre, then the costs can be reduced. The most cost-effective way is still on-premise, absolutely no question. Firms have their own reasons and ideas for doing either of these options for deployment, but the key skill IMSCAD brings is our experience with ISVs like Autodesk and how to fully optimise the environment to give users the best possible experience.
The feeling was that five to six years ago VDI and Cloud would take over the traditional workstation market, but this has not been the case
---
Greg Corke: Recently, we've seen a big shift in the workstation market with both HP and Lenovo launching 'Sapphire Rapids' desktop workstations that are also purpose built for racks. These are all 4U or 5U. But if you look at 12th or 13th Gen Intel Core, you can find some very powerful micro workstations that can also be rack mounted with custom kits. What is it about these machines that customers find attractive?
Adam Jull: I like the HP Z2 Mini and Lenovo ThinkStation P360 Ultra [recently replaced by the Lenovo ThinkStation P3 Ultra] a lot. Small, but powerful, mountable in a datacentre cabinet or in an office server room. Effectively you get the power of a workstation in these small form factors and, just as importantly, you can then add a remoting software solution, of which there are a few good options.
You can run as a bare metal 1:1 machine, giving full resource to the user from any other device they want to connect from.
If you then collocate these machines in datacentre environment you effectively create your own Private Cloud with remoting capabilities, so removing the need for a VPN, improving the user's remote access and with the control features you can run the workstations in a similar way to a VDI server farm.
I would call this 'one step before VDI' which is a simpler and ultimately you will not be going too far away from your traditional on-premise approach. Bare metal, 1:1 with the user, highly resourced and capable of handling all applications, no virtual layer and much less complexity and really neat, in my humble opinion.
---
Greg Corke: What kind of density can you get from the HP Z2 Mini G9? How many units in a standard rack and how does this compare to a traditional VDI using virtualised servers?
Adam Jull: In a typical 42U rack you can get up to 36 HP Z2 Mini G9 workstations. It's difficult to compare that to a traditional VDI server deployment but if we are coming at it from a dedicated GPU standpoint that probably works best in that scenario.
So, with many high-end design applications and visualisation tools requiring more and more GPU resource for optimal performance to cope with users ever more demanding workflows, most users are typically looking for around 8 GB plus of GPU.
If we take an HP Z2 Mini G9 generously resourced with the Nvidia RTX A2000 12GB GPU we can provide 36 users. Compare that to a server, remembering the Z2 Mini is 1:1 so our comparison should be based on a published virtual desktop. Most datacentre GPUs tend to top out at 48 GB, so you can get where I'm going with this. If we take a server that has 2 x Nvidia L40 48 GB cards on board, you are only getting 8 users per server. To get to the same density as our racked Z2 Mini you are going to need 6 x servers! So, as you can imagine there is going to be a substantial difference in cost.
---
Greg Corke: One of the big advantages of using traditional servers for VDI is that they are built from the ground up for the datacentre and have remote management built in. Desktop workstation manufacturers are now addressing this with optional system controller cards. HP's new Anyware Remote System Controller is even available as an external USB box to give the HP Z2 Mini similar capabilities. Do these system controllers give desktop workstations the exact same capabilities as dedicated rack servers, or are there things still missing?
Adam Jull: Things that you might take as a 'given' or a standard function with server virtualisation have sometimes been a touch tricky to achieve with a [traditional] workstation fleet. Features that would have previously required administrators to use third party tools are now being introduced and catered for. The HP Anyware Integrated Remote System Controller does go a long way in closing that gap as systems administrators will now have the ability to remotely manage their workstation fleet from a single pane. It also provides features such as power management, hardware alerts and diagnostics along with the ability to image or reimage the operating systems. So, a big step in the right direction.
---
Greg Corke: The larger rack friendly desktop workstations come with 'servergrade' features like hot-swappable redundant PSUs, rear power buttons, front access hot swap storage. But with the smaller machines you still need to get inside. Does this make management and servicing of these machines harder?
Adam Jull: The Z2 Mini can be racked in much the same way as a larger workstation and, in fact, HP has put a lot of thought into the design. It's worth noting that although the Z2 Mini has a smaller form factor, the Rail Rack Kit slides out from the rack providing excellent clearance and access to cables and ports etc. The Rail Rack Kit also features captive fasteners, providing quick and easy tool-free access to the workstations. So, in terms of servicing and management, the Z2 Mini itself offers tool-less access and slide out components, allowing for simple and easy swap out capabilities which could be for maintenance or expansion. Ultimately, these machines are extremely reliable.
---
Greg Corke: With a centralised desktop workstation solution, do firms tend to give users their own dedicated machine, which they remote into wherever they work, or is there a shared pool? Are firms using the cloud to handle peaks?
Adam Jull: With HP Z workstations, users have access to bare metal resource and remote access to those resources by one of the best-in-class remoting protocols in HP Anyware's PCoIP.
Much like other remoting solutions, HP Anyware provides desktop administrators the ability to grant users or groups access as they see fit, whether that's dedicating a user to a specific machine or having a bunch of machines available on more of a round robin or random assignment. And just touching on that management piece it's worth highlighting that HP provides an end-to-end product for the centralised desktop deployment model.
Typical components would be the HP Anyware Manager which provides administrators with a management plane to configure, manage, broker and monitor remote workstation connections. There's also HP Anyware Connector which provides security gateway services and user authentication for remote connections to their assigned desktops and then, of course, there's the HP Anyware Agents which is software installed on the remote workstation which securely encodes the desktop and streams pixels-only to the PCoIP Client.
The PCoIP Client is also required and helps to complete the circuit, if you will. It's installed on the user's end device and allows them to connect to the remote workstation. It decodes a stream of PCoIP pixels from the remote workstation PCoIP Agent. Most firms using this type of solution are pretty savvy – they know their workforce will flex whether that's up or down, typically we see firms overprovision rather than burst into the cloud.
---
Main image: The HP Z2 Mini G9 is most commonly deployed on desktops, but the spacesaving design means it can also deliver impressive density in the datacentre
---
Scroll down to read and subscribe here
Featuring