We speak with two experts from ALLPLAN to understand how the AEC tools of the future are being prepared and readied today. Eduardo Lazzarotto is SVP Product & Strategy at ALLPLAN, and Nigel Rees is Cloud Services Director at ALLPLAN
---
It is an exciting time to be working in the AEC industry, as it is rapidly accelerating the pace of change. For years, it was branded one of the laggards of the third industrial revolution, the digital revolution, and cast as an unlikely candidate to drive the latest fourth industrial revolution. Looking on how buildings and structures are delivered today, we see different speeds of digital maturity among the many stakeholders. However, a combination of fast-evolving trends and continued investment will position the construction industry right at the center of the industry 4.0 revolution. The very tools and technology that are used today and underpin projects need to be re-architected to ensure that they deliver on this revolution and support as users' needs change.
Why do you see there is a need for transformation in the AEC industry?
Eduardo: There is a significant challenge of decarbonizing our economies today, and the AEC industry plays a vital role. Besides that, the requirements for better – more efficient, comfortable, adaptative and environmentally friendly – buildings continue to evolve. To achieve these challenges, we believe in supporting our customers, architects, engineers, and construction companies, with more efficient design to build workflows. To do that, we are continuously implementing innovative technology to our solution stack and helping accelerate the digitalization of workflows.
The digitalization trend itself is being fueled by continued data processing capacity and access growth, via both hardware and software innovations. More IoT devices connected through considerably faster telecommunications, and fundamental changes of enabling IT-systems to self-evolve through artificial intelligence and machine learning have been changing the technological landscape for the industry.
Ultimately, it's all about the data! And that brings about challenges. How best to create, use and store that data? And that is where we must evaluate our products, workflows and approaches to future proof and ensure we meet the needs of clients both today and in the future. Is desktop alone the answer? Well as a provider of BIM solutions for buildings and infrastructure, we took the decision several years ago to also invest in our cloud services to enable some re-architecture of workflows and the implementation of technology that connects and enables greater efficiency than is possible by desktop alone.
How does a software company like ALLPLAN that has been around for decades prepare for this data revolution?
Eduardo: The need to share, coordinate, and manage information in a BIM framework is required now more than ever. However, connecting desktop modeling software to a multitude of stakeholders, managed and unmanaged programs, and different processes used in a project generates significant challenges. With information being gathered from different systems, data can quickly and easily become mismanaged.
By expanding Allplan capabilities with cloud-based technology, an integrated BIM workflow and data management system is created, streamlining processes, making data instantly available to the right people at the right time, and ensuring that the single source of truth is maintained through the project lifecycle.
It's vital to keep pushing the boundaries and developing our desktop software – every innovation, every enhancement, every bit of increased performance, all helps and adds value. But we all know that hardware performance has its limitations and cannot continue to increase like it has in the past. And from a performance perspective, this is also where cloud powered workflows can come into the picture. Often, we don't need the complete project locally. Take our multi-user functionality, we can control and access projects over the cloud and synchronize data simultaneously between users, reducing local storage needs, improving performance and enabling more efficient collaboration.
Is this just better coordinating and sharing of data?
Nigel: No, it's way more than that, but we need to start there. In fact, we invest quite some time in making sure we can deliver distributed and coordinated sets of data amongst project teams, whether that is through desktop to cloud or cloud to cloud workflows. Of course, once you have the basic requirements dealt with it is then possible to build processes on top of the distributed data, just one of which is issue management. This is an incredibly important workflow that requires a well-managed data set that is accessible across the relevant teams. Without this we often see poor communication leading to project delays. The close integration of cloud functionality into Allplan means issues can be efficiently managed from within the desktop but powered and improved by cloud technologies and then further connected with other tools to ensure a seamless flow of information.
It is often more about delivering a connected environment – desktop and cloud based. One example of utilizing a well-coordinated dataset from desktop to cloud can be seen with our recent integrations with Solibri. By synchronizing model and issue data through our cloud platform we are then able to move that data on – in a coordinated way to Solibri's desktop environment, utilizing their BCF Livesync functionality, and then further enhance the quality of the model by also connecting to new cloud-based model checking tools delivered through Solibri Inside.  The value these types of workflows offer to our customers is huge; as we are developing a 'live' model in the cloud – one which can adapt over time, is continuously enriched through open, but controlled, connectivity with multiple different data sources. And because this is all in the cloud anyone with access and the right permissions can perform these tasks, so we remove the barriers for access immediately, resulting in no more data silos.
So what is this? Is it integrating BIM? Or raising BIM levels?
Nigel: I think on every level you can say that – yes.  We are removing barriers to access data, as I mentioned before. I believe that a connected BIM environment ensures that the level of BIM is raised. We have a commitment to the industry and to our customers to ensure project data is made accessible, but also that a history of the project is available through a digital platform for both model data and document data throughout all disciplines involved.
Our strategy is to ensure an open data environment, so we support OPEN BIM initiatives at every opportunity, and to also support a further enhanced connected BIM environment through our open API. This then allows our customers to deliver their own value both upstream and downstream in projects.
We like to think that with the environment we have created we are able to create a rich and diverse set of solutions which cover the more widely adopted workflows, like the previously mentioned issue management, to more specialized workflows to facilitate the structural analysis of buildings and bridges, for example. For the engineers in these fields we have built specialist functionality where users can take a structural model and convert it to an analytical model, using a format that can be used in numerous structural analysis solutions. The clever thing is that the data from the structural analysis solution can be managed back via our cloud services to enable an end-to-end solution.
There are many other examples of connecting data – both into our desktop applications and out via our cloud services. From road or bridge alignments in other industry solutions to workflows that enable and support change management. We see the possibilities with our framework as limitless and are working hard with industry leaders to bring their requirements to reality.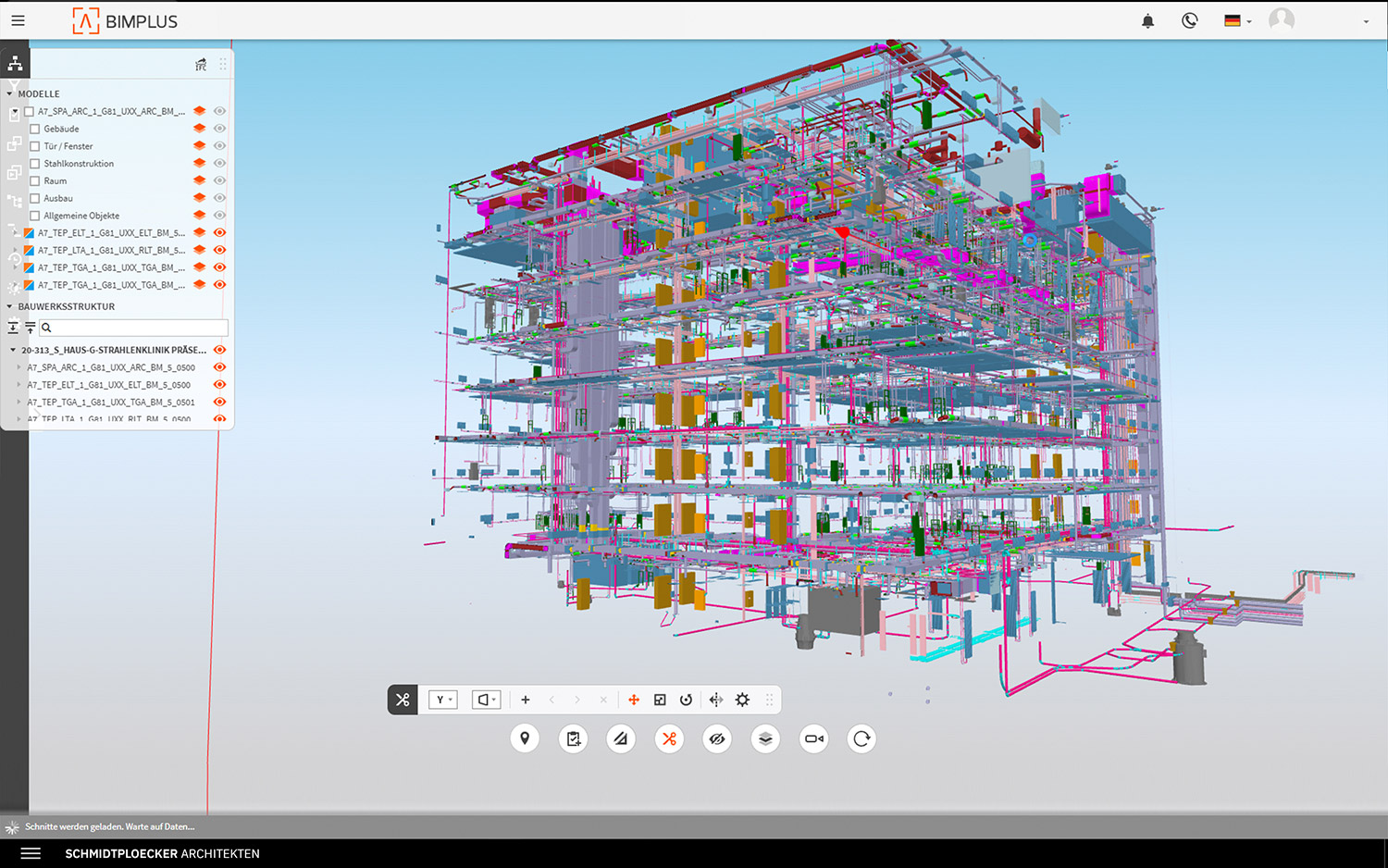 Looking into the future what do you see as the Allplan software of the next decade?
Eduardo: I'd say that where it makes sense from a user, project, and value-based perspective, to deliver more efficient workflows via our cloud services, we will continue to do so. And we expect more hybrid working. As not everything must be centralized on the cloud, we have taken the approach that a mix of desktop and cloud working efficiently enables adaptive working processes today – and in the future. We are also ensuring that we have multiple entry points to support and integrate disruptive technologies as and when they come along.
In the next ten years, Allplan software will undergo significant changes and improvements as technology continues to advance rapidly. Here are some potential developments – cloud and desktop powered – that we can expect to see:
Greater integration: ALLPLAN will continue supporting OPEN BIM and becoming more integrated with other software tools, such as construction management, project management, and analysis software. This integration will enable architects, engineers, and construction professionals to work more efficiently and collaboratively.
Cloud-based solutions: As discussed, cloud powered workflows will continue to evolve, as they offer a more flexible and accessible approach to design and collaboration. With cloud powered solutions, architects and engineers can work on projects from anywhere and collaborate with team members across the globe.
Visualization: Virtual and augmented reality, but also cloud and desktop-based rendering technologies are becoming more advanced and accessible, so we are continuously investing in making the most advanced solutions available to Allplan customers in the most efficient way – we can talk about Maxon's Redshift, Unreal's Twinmotion and Act3D's Lumion integrations for another hour – and we see that playing an important role in Allplan software in the coming years. Efficient visualization can be used to create immersive experiences for clients and stakeholders, allowing them to experience and interact with designs in a more realistic way.
Sustainability and energy efficiency: As sustainability and energy efficiency become more critical concerns for the built environment, Allplan will continue growing efficiency in design to build workflows, including LCA solutions. Solutions that enable architects and engineers to design more sustainable and energy-efficient buildings will become increasingly important.
Increased use of AI: AI and machine learning will play a more significant role in ALLPLAN solutions in the coming years. AI can be used to automate certain processes, such as design optimization, project management, and even construction. AI can also help architects to make more informed decisions by providing insights based on data analysis.
In summary, ALLPLAN will continue focusing on the delivery of building and infrastructure projects with an emphasis on equipping customers to increase efficiency in design to build workflows. As more technologies become available, we will continue developing effective workflows for architects, engineers, and construction professionals, to support them in building the future.