11th Gen Intel Core workstations might have have the edge in CAD and BIM-centric workflows, but this Ryzen 9 5000 beast from Scan wins hands down when it comes to rendering and extreme multi-tasking, writes Greg Corke
---
Like many workstation manufac turers, it's been a frustrating six months for Bolton-based Scan. AMD Ryzen 5000 CPUs havebeen in huge demand, but the global chip shortage has meant limited supply. This now appears to have eased and Scan workstations with 'Zen 3' AMD CPUs are now rolling off the company's production line.
The delay has brought some benefits. Scan can now pair AMD's impressive desktop CPU with a choice of three Nvidia 'Ampere' pro GPUs. The Nvidia RTX A4000 (16 GB), Nvidia RTX A5000 (24 GB) and Nvidia RTX A6000 (48 GB) are all available as options inside the new Scan 3XS GWP-ME A132R.
For our review machine, Scan has chosen the top-end AMD Ryzen 9 5950X CPU. With 16 cores, 32 threads, a base frequency of 3.4 GHz and a boost of 4.9 GHz, this processor is adept at handling all different types of workflows. You get excellent performance in single threaded CAD and BIM software, as well as multi-threaded power for simulation, point cloud processing, photogrammetry, generative design, CAM and, of course rendering.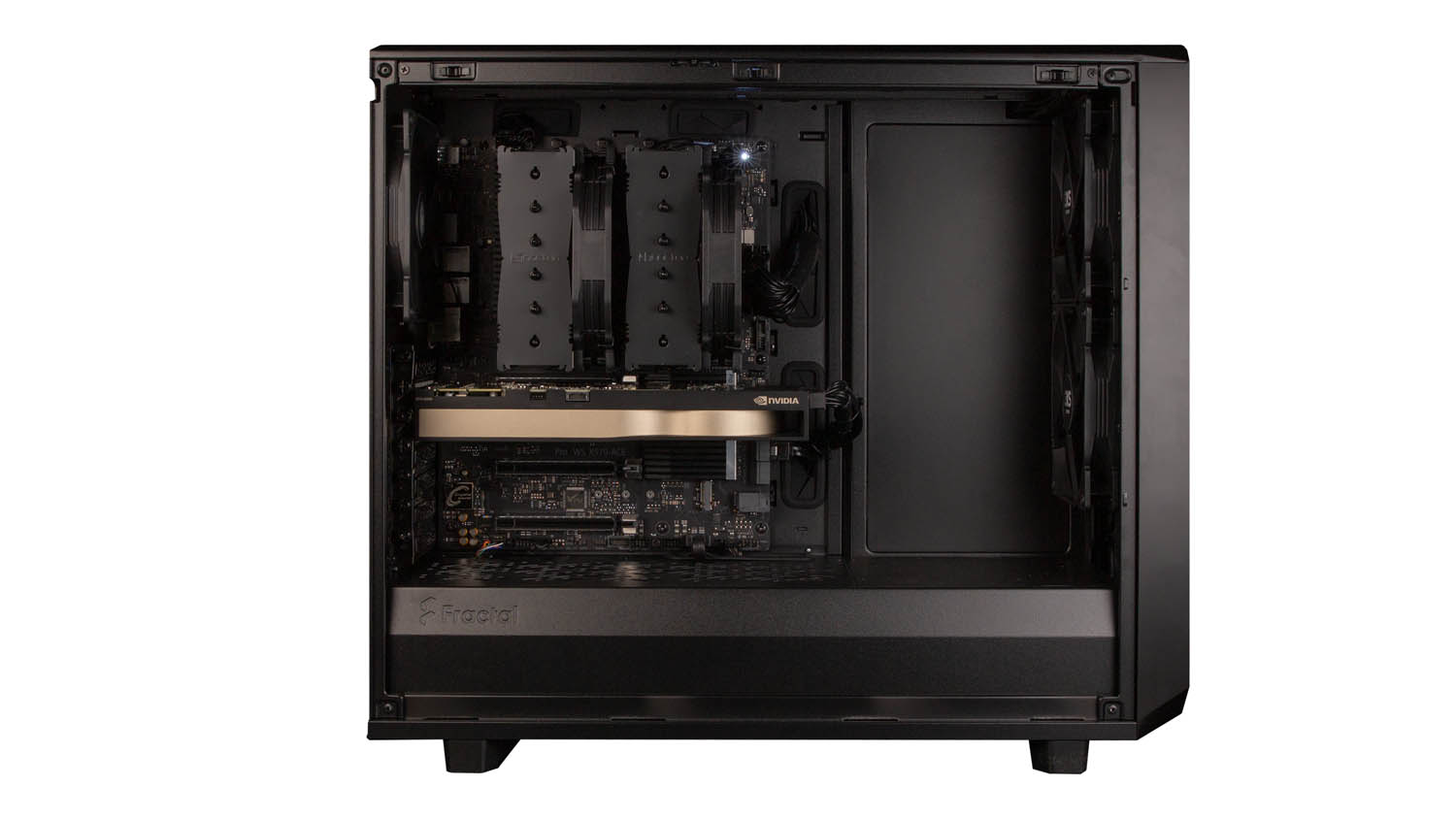 As you'll learn from this in-depth article, the 11th Gen Intel Core CPU still has the edge in many workflows. However, when it comes to rendering and extreme multitasking, the 8-core Intel Core i9-11900 or Intel Core i9-11900K simply can't compete with the 16-core AMD Ryzen 9 5950X.
To explore the machine's multi-tasking potential, we pushed it to its limits, with a demanding AEC workflow, consisting of point cloud processing in Leica Cycone Register 360 and photogrammetry processing in Agisoft Metashape. Not only did it reduce processing time to 889 secs from 1,306 secs (the time it took if both jobs were run sequentially), but the machine was still responsive enough to model comfortably in Revit. See our in-depth AMD Ryzen 5000 vs 11th Gen Intel Core article to find out more.
The 2 TB Samsung 980 Pro NVMe PCIe 4.0 Solid State Drive (SSD) certainly helps here as it's able to read and write data very quickly, so storage doesn't become too much of a bottleneck.
Rather than supplementing the M.2 SSD with a 3.5-inch SATA Hard Disk Drive (HDD) for secondary storage, Scan has included a 4 TB Samsung 870 Evo SATA SSD instead. Costing less than 10p per GB, SSDs are quickly becoming the future of all workstation storage, and not just for OS, apps and select datasets.
Coupled with the Nvidia RTX A5000 GPU, the workstation has an obvious bias towards graphics intensive workflows, suggested by the 'ME' (Media and Entertainment) abbreviation in the product name.
The Nvidia RTX A5000 is a hugely powerful professional GPU for real-time viz and GPU rendering. At 4K resolution, we got in excess of 20 frames per second in most of our test applications. The exceptions were Unreal Engine 4 when realtime ray tracing was enabled and in Autodesk VRED Professional when anti-aliasing was set to ultra-high. However, these are extreme workloads. Most mainstream viz users should expect a smooth, reactive viewport when navigating models, and superfast results when GPU rendering.
For those with less demanding graphics-centric workflows (or a tighter budget) a downgrade to the Nvidia RTX A4000 will shave close to £1,000 off the £4,167 (Ex VAT) price tag. See our in-depth review of both Nvidia GPUs.
The Asus Pro WS X570- ACE motherboard is workstation-grade and has what Scan describes as an 'over-engineered cooling and power delivery system'. It has four memory slots, populated in our test machine with 64 GB (2 x 32 GB) of Corsair Vengeance DDR4 3,200 MHz memory. For memory hungry workflows like point cloud processing, it's easy to upgrade to 128 GB, as we did when testing with Leica Cyclone Register 360, though you'll first need to clip off one of the CPU fans to get to the slots.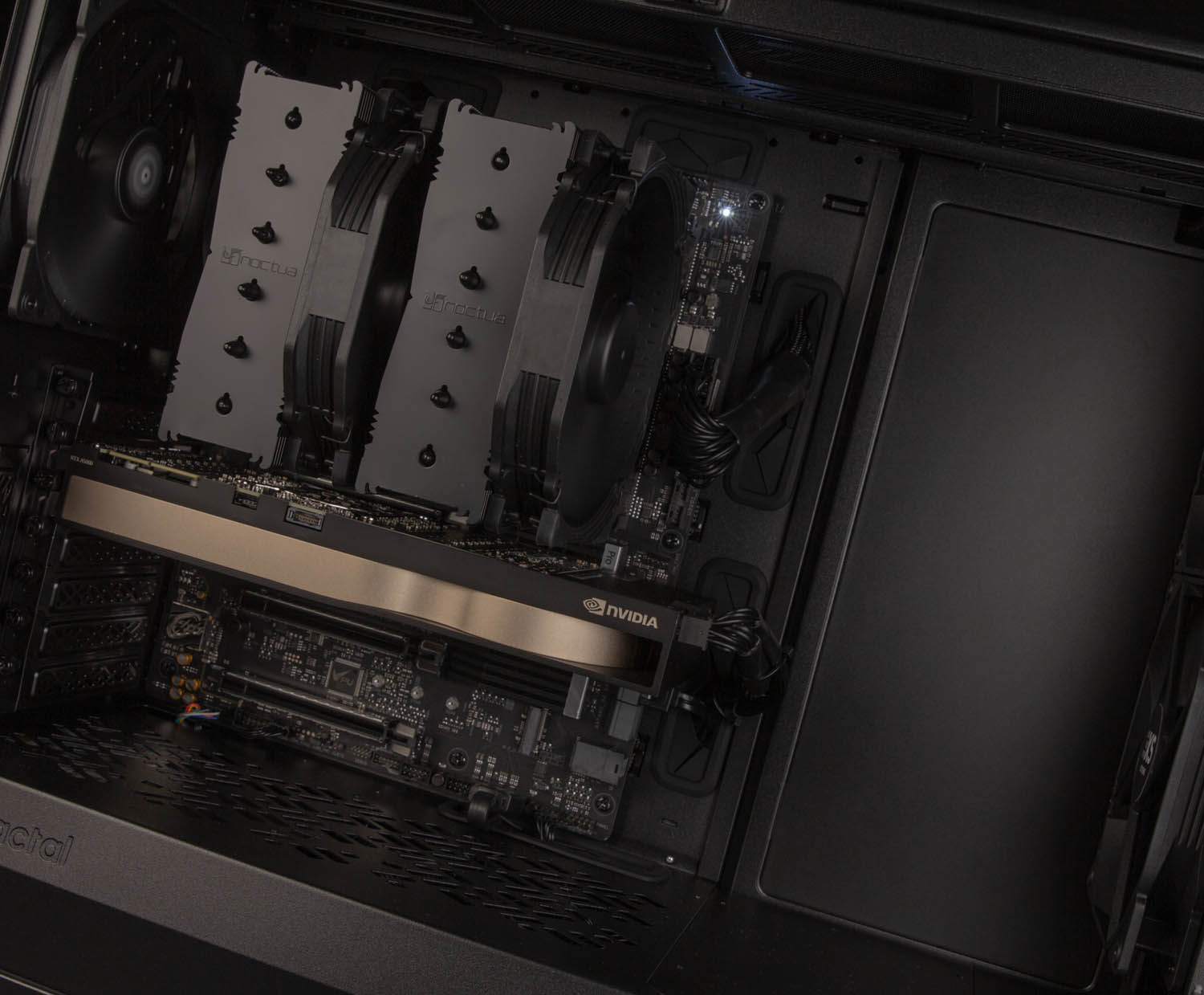 With a second PCIe Gen 4 slot, you can add a second Nvidia RTX A5000 GPU at a later date although you may need a bigger PSU than the 750W Corsair RMX, which is 80PLUS Gold rated. Scan technicians can advise here.
Everything is housed in a new custom Scan 3XS workstation case, which is available with both solid and tempered glass side panels. It's a nice sturdy chassis with a 3XS branded vented front that helps ensure cool air runs freely from front to back.
A substantial dual radiator, dual fan Noctua NH-D15 air cooler helps keep the processor running cool. We observed a peak frequency of 4.91 GHz in single threaded workflows, going down to 3.74 GHz with all 16 cores running flat out for extended periods. Scan says the Noctua is generally quieter than an equivalently rated hydrocooler, and it's hard to argue with that. The entire system was incredibly quiet, even under heavy loads.
The verdict
This is another excellent machine from specialist workstation manufacturer Scan. With the AMD Ryzen 9 5950X CPU, the 3XS GWP-ME A132R is equally adept at handling single threaded or multi-threaded workflows. Whether that's for rendering stills and animations, or for demanding multi-tasking reality modelling workflows, it doesn't really matter. And with an Nvidia RTX A5000 GPU backing it all up with substantial graphics horsepower, it can handle pretty much anything you throw at it. And it does all this while giving out little more than a gentle hum.
---
3XS GWP-ME A132R – Specifications
AMD Ryzen 9 5950X processor (3.4 GHz, 4.9 GHz boost) (16 cores, 32 threads)
Nvidia RTX A5000 GPU (24 GB)
64 GB (2 x 32 GB) Corsair Vengeance DDR4 3,200 MHz
2 TB Samsung 980 Pro NVMe PCIe 4.0 SSD + 4 TB Samsung 870 Evo SATA SSD
3XS workstation case with tempered glass window
Microsoft Windows 10 Professional 64-bit
3 Years warranty – 1st Year Onsite, 2nd and 3rd Year RTB (Parts and Labour)
£4,167 (Ex VAT)
---
This article is part of AEC Magazine's 2021 workstation special report. To read the other articles and reviews in this report click on the links below.
Desktop Workstation Buyer's Guide
Greg Corke goes back to basics with some general advice for those looking to match their machine to architecture, engineering and construction (AEC) workflows
Intel Core vs AMD Ryzen for CAD, BIM & beyond
Which is the best CPU for design-centric workflows – from CAD and BIM to reality modelling and rendering
Workstations for CAD, BIM and viz: 2021
The latest desktop workstations for CAD and BIM-centric workflows
Best lightweight workstation laptops for 2021
Ultra-portable mobile workstations to take CAD, BIM and viz on the road
AMD Radeon Pro Viewport Boost review
Pro driver feature dramatically increases 3D performance by dynamically reducing viewport resolution
Nvidia RTX A4000 / A5000 review
New pro 'Ampere' GPUs slice through real-time 3D, ray tracing and VR workflows
Dell UltraSharp U4021QW review
This 5K2K widescreen display gives a bit extra when it comes to screen real estate
Hybrid working for AEC firms
With many firms re-evaluating office space and working from home policies, we asked Adam Jull of IMSCAD about the role that virtual workstations can play
Workstation Specialists WS-184 (11th Gen Intel Core) review
This 11th Gen Intel Core workstation is ideal for CAD and BIM centric workflows
WS-1640A-PRO-G4 [Threadripper Pro] Review
It's not for everyone, but looks ideal for applications where memory bandwidth is critical
AMD Radeon Pro W6800 review
This 32 GB beast is the first pro GPU from AMD with hardware-based ray tracing built in
The Revit Graphics Boost
New One Graphics System (OGS) will boost viewport performance and add GPU ray tracing