Vectorworks has been busy with a major update to its flagship product. The 2023 version now offers users support for scan-to-BIM with Apple's RoomPlan and quality checking via Solibri Inside
---
Recent releases of Vectorworks have been both important and tricky. New features needed to be added to the core BIM tool, in Windows and Apple Intel. Behind the scenes, meanwhile, some major rearchitecting has been undertaken, not least with a whole new port to Apple Silicon.
In  Vectorworks 2023, the BIM feature updates continue. And, post-launch, Vectorworks has added two exciting new capabilities: first, Scan-to-BIM, supporting Apple's brilliant mobile RoomPlan Technology; and second, quality checking via Solibri Inside.
But first, let's look at the sales strategy for this product. Vectorworks comes in four flavours, all built on the same core technology. These are: Architect, Landmark (for landscapers), Spotlight (for media and entertainment/stage design), and Fundamentals (a basic version).
With Vectorworks 2023, new Vectorworks licences can only be bought by subscription — more on that later. Subscriptions for Architect, Landmark and Spotlight cost £123/month or £1,230 billed annually (which works out as £102/month). A Fundamentals subscription costs £88/month or £880 billed annually (£73/month).
When you compare these prices to a single licence of Revit — £2,940 yearly or £366 per month, according to the Autodesk website — then Vectorworks' various professional flavours look like good value for money.
Top Vectorworks 2023 features
Moving on to features and functions, the Wall Tools command is now a combined wall tool. In other words, it supports the editing of curtain wall frames and walls with a single in-context tool. There are now additional options for wall insert of objects, which can be centrally located or locally overridden when needed. It's also possible to align inserted components, even if they're in different styles. Construction drawings have been improved with the inclusion of additional fields to the Profile offsets and Wall Closure Wrappings dialogue.
Push/ Pull modelling has been beefed up with a new Offset Edge tool, which lets you offset edges and edge loops from planar and non-planar faces. It also includes an automatic Push/Pull mode for nonplanar faces of 3D objects, reducing the steps to model unique 3D solid objects. This is very powerful. It will not only improve modelling times but also enable complex solids to be generated very easily, while maintaining a full history of the complex solid. This is the kind of capability seen in mechanical CAD systems.
The Shaded Render mode has been improved to support an unlimited number of light objects, glow textures, environmental lighting and reflections. This provides a real-time preview for a better understanding of a project while it's being designed and helps predict the render output better. The new reflected textures and 'lit fog' support are really cool.
Section Viewports can be generated six times faster than in the previous release and using 80% less system memory, thanks to the Vectorworks Graphics Module. This moves calculations and processing to the background. Viewport updates are snappy and don't lock up the application.
Cloud Presentations for clients have been enhanced to enable users to create and customise boards and virtual tours in Vectorworks Cloud Services. In virtual tours, there is increased compatibility with file types, such as 3D models, videos, images and PDFs, as well as the ability to create text and hyperlink-based pins.
Vectorworks 2023 now takes full advantage of Maxon's Redshift Everywhere initiative, which supports Redshift render styles regardless of the type of hardware in use. Redshift is no longer limited to using just the GPU, but also the CPU for processing image work.
The new BCF Manager and interface is a lot quicker for loading, creating editing and managing issues during coordination. With powerful data filtering capabilities and support for BCF 3.0, Vectorworks now supports BCF exchange by file or web workflows using BCF web services.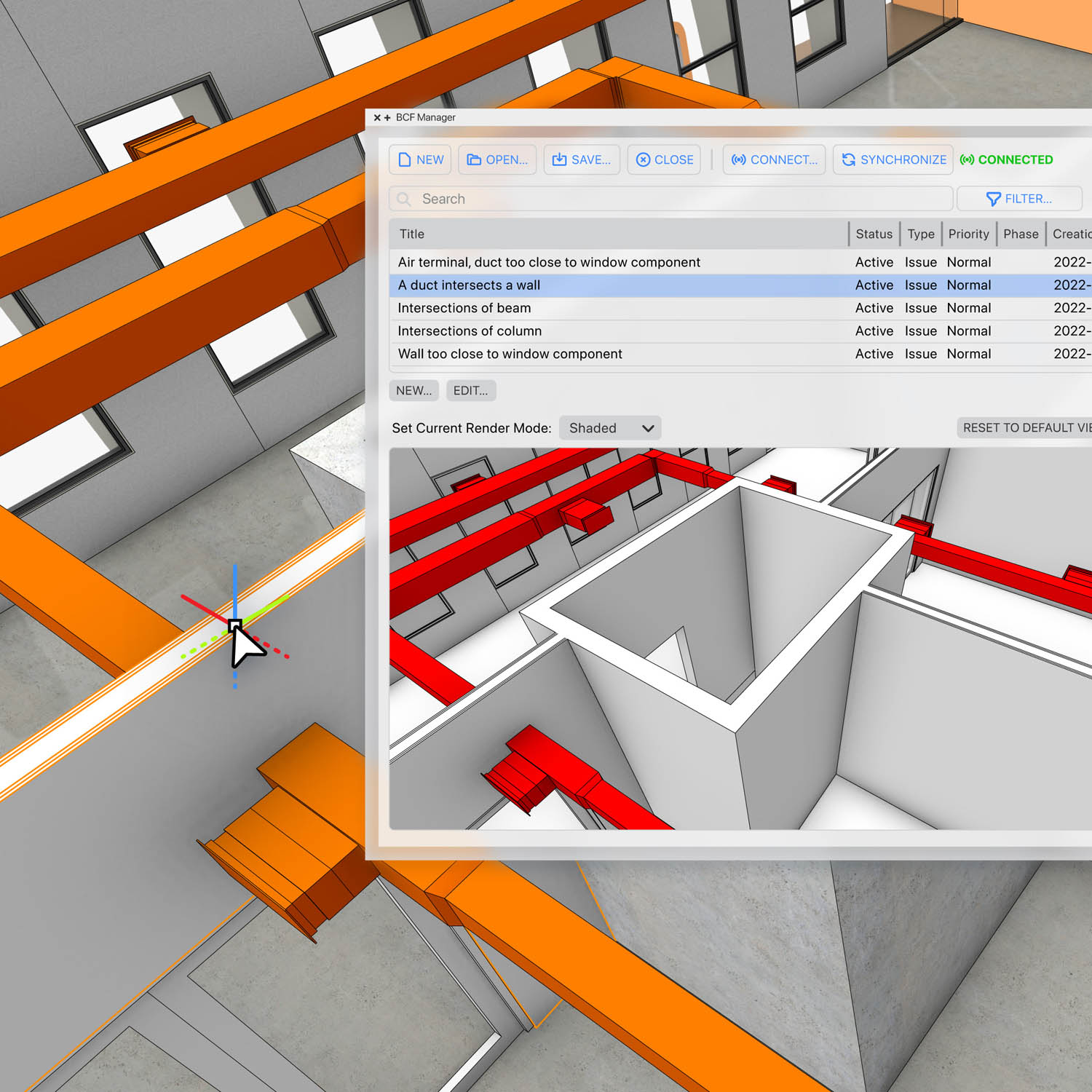 A new elevation benchmark tool can be used for annotation as well as a design tool. It can be placed in the model space and used as a visual aid when modelling. Elevations can be placed on different design layers and reference the layer height above the ground plane or associated to storeys or different ground levels. Once included, they can also be used to change story heights. A number of styles can be applied, and there are lots of options for the way that the information is displayed.
Data Reporting, meanwhile, creates detailed reports and quantity take-offs for building objects, using a new set of reporting functions for walls, slabs, roofs and railing/fence objects and their defining components.
In terms of data exchange, Vectorworks now supports more Revit object types and provides better organisation of imported file data. You can also reference a Revit file directly.
IFC files give faster, more reliable results on import, with additional filters applied to objects upon import. They have access to class, storey and other criteria-based mapping for alignment with Vectorworks data.
DWG and DXF files, meanwhile, have also seen import/export improvements with a new, simplified export dialogue. When importing, you can now select which layers and objects to include.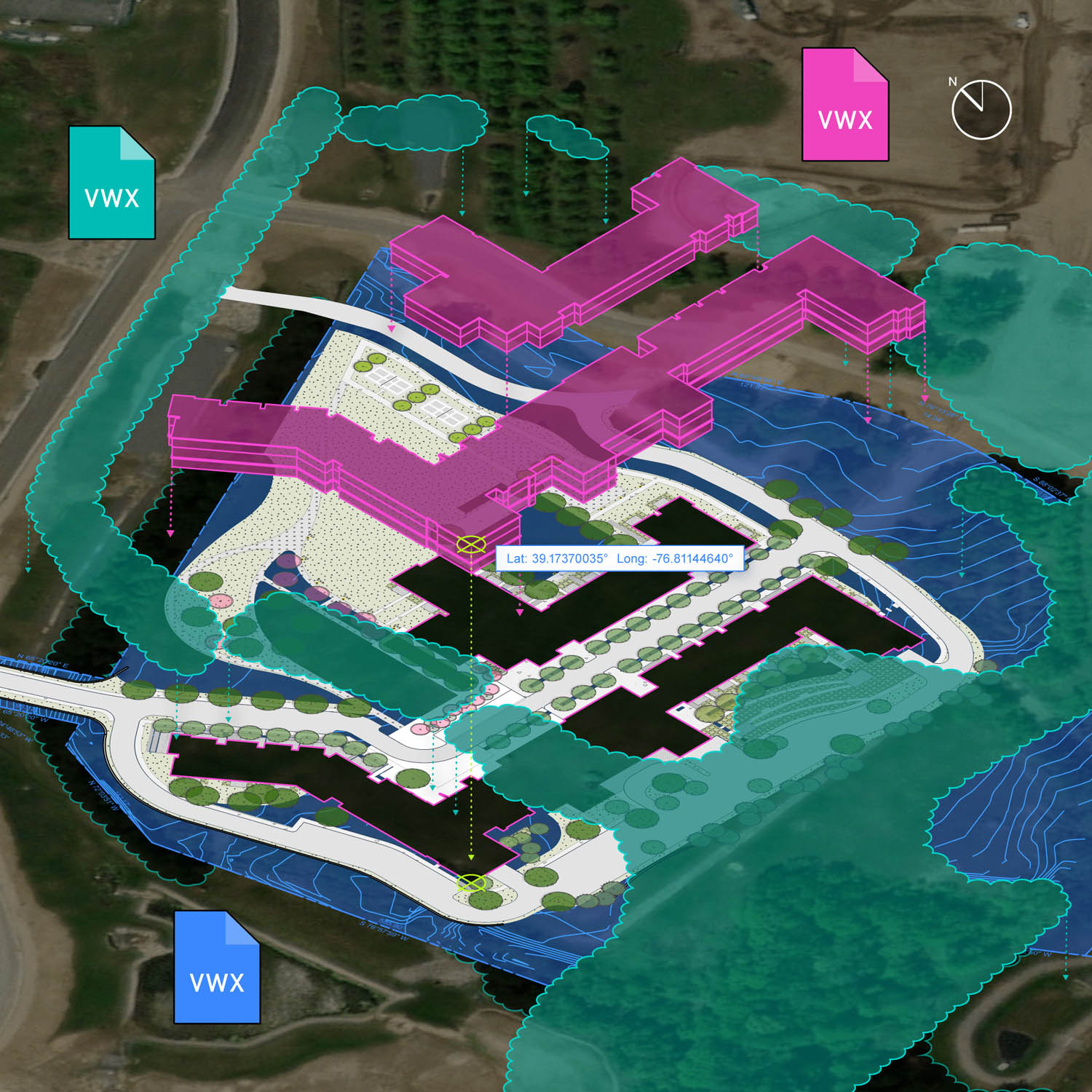 And when it comes to site grading and GIS, new Site Modifier modes, including Aligned, Pathway Path and Boundary Path, enable site designers to create more complex grading projects. There are new ways to account for drainage, vehicular/ pedestrian use and better control via contour drawing and editing. GIS and georeferencing integrations automate the placing of referenced files using GIS settings from a master document.
Cloud and mobile enhancements
In January 2023, Vectorworks announced key updates to Vectorworks Cloud Services and the Nomad mobile app. Utilising Apple's innovative technology, the development team has increased performance and streamlined reality capture workflows.
The existing Photos to 3D Model feature in Vectorworks Cloud Services has been replaced with a new framework, in order to take advantage of Apple's new photogrammetry API on macOS, known as Object Capture. Job submissions now incorporate this framework on the cloud infrastructure, desktop app, web portal and Nomad mobile app.
The net result is higher success rates and the ability to create more optimised geometry in less time. The service now captures any additional metadata that is generated by supported iOS devices. This is used by the algorithm to recover actual object size and orientation, a capability that was not previously possible.
Vectorworks has also added support for Apple's room scanning framework, RoomPlan, to the Nomad app. This means it can now produce models with classified geometry, such as walls, windows, openings and doors. These can be imported directly into a Vectorworks model. In an industry first, users can quickly scan an existing room layout using their iOS mobile device to create a robust reality capture that is accessible and easy to use. In other words, Scan-to-BIM is now possible.
The new version of the Nomad mobile app also gives users more control over light representation in 3D models, to aid in perfecting design presentations. Individual lights can be turned on and off, and heliodon or directional lights can now set the position of the light direction control when opening a model in the Unity-based 3D viewer.
Users can try out the latest Vectorworks Cloud Services features by logging into cloud.vectorworks.net. The Nomad mobile app is available in the Apple App Store or Google Play Store.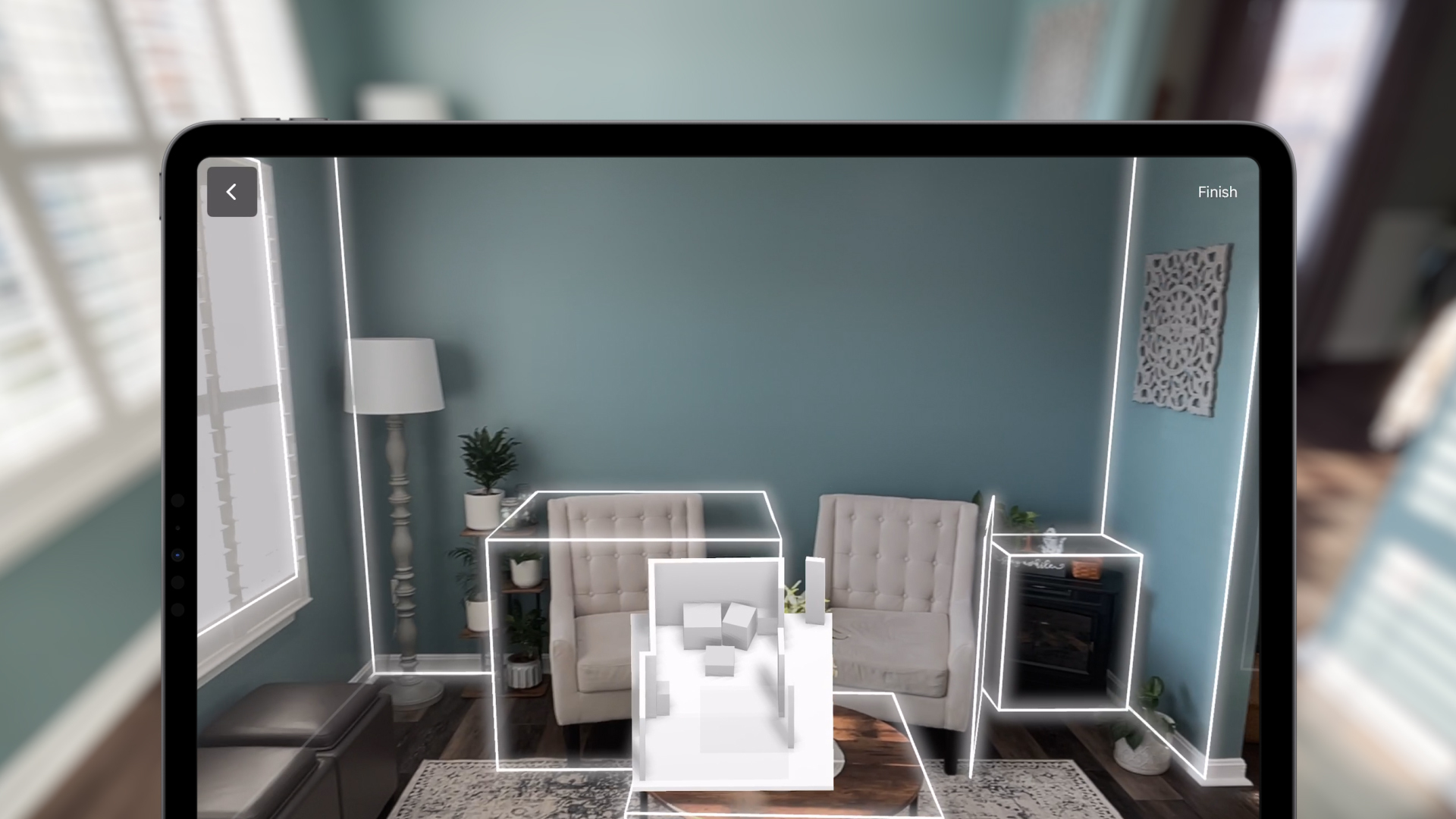 Vectorworks and Solibri Inside
Nemetschek, owner of Vectorworks, offers an array of AEC brands that have operated independently for seemingly decades. A recent focus has been to create better integrations between these stablemates — and now Vectorworks has pulled a biggy, by pairing up its flagship BIM tool with Solibri, a market-leading quality checking software.
Called Solibri Inside, this provides users with the ability to validate designs using automated rule checking, modify design errors and create reports by directly inside Vectorworks. It's a big advantage to the usual workflows, in which files are exported, loaded into Solibri, where checks can be run, errors found and reports made, before the file is sent back to Vectorworks to be corrected. Solibri Inside puts an end to the file palaver, saving a lot of time. Solibri is used heavily in countries with rigorous BIM standards where data compliance is a contractual issue.
Solibri Inside works within the latest version, Vectorworks 2023 Service Pack 3, and eliminates the need for users to open another software platform to perform basic model checking. Users can ensure their BIM models comply with building regulations, with national and international standards or with a specific project's BIM requirements before sharing. Firms that struggle with internal quality can use Solibri to bring better quality to their data and identify problem files, as well as help identify designers who might benefit from a bit more training.
The first release of Solibri Inside comes with a free standard package for checking door and window clearances and supporting Level of Information (LOI) in BIM models. Users can unlock additional features by registering a Solibri Inside account and adding paid Solibri packages to their toolbox, giving them the full access they might need to develop their own rule checks, however simple or complex.
New subscription-only model
Up until this point, Vectorworks had supplemented perpetual licensing with maintenance and subscription licences. This year sees the end of new perpetual licences, with monthly or annual subscription being the only option from now on.
The company warned customers of this development at the end of summer 2022, stating: "This change will provide all Vectorworks customers with access to a more stable product by increasing the frequency of updates and allow us to focus on consistent quality throughout each version cycle."
While Vectorworks has done a good job of consistently delivering feature-rich updates and rearchitecting under the hood, year on year, I fear this is part of the commercial disease that has seized the software industry.
The introduction of subscriptions always increases cost of ownership. It's driven by shareholders, not by customers. Users who have been slow to upgrade their Vectorworks licences, and have not been or are lapsed members of Service Select, have had to upgrade their perpetual licences in order to get current and ensure ongoing access to perpetual licence upgrades. Those that did not could only upgrade by converting their perpetual licences to subscription licences. A discount was offered on annual subscriptions for customers working on versions that are 3 years old or newer. If they chose to take advantage of the offer, they had to agree to forfeit ownership of all versions of the perpetual licence to Vectorworks.
Moving to a subscription-only model tends to go down like a cup of cold sick with users, especially those in smaller firms. The pressure is now on Vectorworks to prove to customers that the subscription model delivers improved value
The subscription offering will now be enhanced to include in the price all the premium benefits of Vectorworks Service Select. This includes library content, training, extra Cloud Service storage, and cloud rendering. Subscribers will have access to the current version and three legacy versions back.
I can't help but feel Vectorworks stands as a test case for this kind of strategy in Nemetschek Land. Graphisoft still offers perpetual licences for ArchiCAD. Moving to a subscription-only model tends to go down like a cup of cold sick with users, especially those in smaller firms. Often, resentment builds quickly, so the pressure is now on Vectorworks to prove to customers that the subscription model delivers improved value, a trend yet to be bucked in the BIM industry.
In conclusion
Possibly because of its three distinct vertical flavours, Vectorworks always does a pretty good job of improving functionality across a decent spread, typically in rendering, landscaping/GIS, BIM and drawing.
Vectorworks 2023 offers a solid upgrade in terms of features and functions, and the development team has been very quick off the mark to incorporate Apple's exciting scanning technology, included in its high-end phones and tablets kitted out with a low-density Lidar. When combined with Apple's AR Toolkit and photogrammetry, it seems that a whole new breed of mobile applications is set to revolutionise data capture on commonly available devices.
For example, it's now possible to scan an interior, with Apple's technology identifying walls, doors, windows, and some furniture, and put this data straight into a BIM tool.
Typical Lidar data can be messy and is essentially dumb, but Apple's AR toolkit does a much more robust conversion of surfaces into objects. I am sure customers will have hours of fun with this technology and it should impress their clients, as it's all a bit like magic.
As for the business model change to subscription-only, there is now a sense of inevitability. The whole software industry may soon be moving in this direction. But customers lose their bargaining power in subscription models, as they are shifted away from deciding for themselves if and when they want to upgrade. In the past, such steps were typically taken only if the customer considered a new version was worthy of its cash and if it was happy to increase its overall annual tools budget.
The advantage to the software vendor, however, is clear for all to see. With mature products, lower development velocity has tended to mean fewer game changing updates and more refinements. Less revolution, more evolution. Vectorworks isn't a development laggard, but it's going to have to work hard to appease aggrieved customers. That said, in the market for BIM tools, its subscription prices are still lower than those of its competitors.
---
Q&A with Vectorworks CEO, Dr. Biplab Sarkar and CTO Steve Johnson
AEC Magazine: How many years in advance does Vectorworks plan out feature releases and updates? Are there set areas which need to be addressed with each release? Such as performance, BIM components, drafting, structural… obviously with landscaping and entertainment being separate these areas have their own feature updates. How difficult is it to get the balance right?
Dr. Biplab Sarkar, Chief Executive Officer: It's not a simple task to get the balance just right, but we have achieved a healthy and pragmatic approach that applies across all our product offerings. We set core theme areas that must always be addressed such as modernisation of underlying technologies, ease of use or "usability", quality and performance, and of course new features that address customer workflows and new industry niches. We then overlay this with industry trends and most importantly, customer feedback on top of those thematic areas to address the prioritisation of development tasks we work on. In terms of how many years in advance, we don't have a set number, as we believe roadmaps need to have structure and fluidity. Our Public Roadmap outlines our scheduled enhancements and features for upcoming releases and those that are currently in development and actively researched. Customers can also suggest new features they'd like to see and leave us feedback on our upcoming changes.
AEC Magazine:  Vectorworks supports both Apple Intel and Apple Silicon, as well as Windows Intel and soon Windows ARM. Folks like Autodesk are moving to the cloud, which bypasses all this. How do you think the processor platform is going to change? Will customers want local power or cloud? Intel or Arm?
Dr. Biplab Sarkar: Yes, Vectorworks is the first BIM product to support Apple Silicon. The feedback from our customers tells us that while certain workflows, like rendering or AR/VR/MR, can be very well supported in the cloud, when it comes to the documentation of the BIM model, they prefer the availability on a desktop. So, customers are still looking for local power and a chip architecture like in Apple Silicon to greatly improve their experience in terms of performance. Also, Vectorworks has been making many of the core functionalities to be multi-threaded on the desktop over the years, which also helps the users. Furthermore, we are making use of the GPU in some of the near-real-time render modes. So, for Vectorworks users, desktop is still the platform of choice.
Steve Johnson, Chief Technology Officer: Processor technology will never stop changing, 32bit, 64bit, PowerPC, ARM; we've grown and prospered through all those changes, and we'll continue looking for new technologies and directions. Our software engineers have a knack of anticipating these changes and have shown the ability to quickly adapt and change accordingly. Most of the reengineering work we do is in anticipation of these changes. Our graphics VGM reengineering happened right before the announcement of Apple Silicon and allowed us to be one of the first BIM packages to run natively on ARM. Our current re-engineering efforts are absolutely focused on better cloud capabilities.
Customers will want what serves their needs. Local power and cloud are certainly at play and each architecture and platform will require vendors to work hard to evolve their solutions to take full advantage. That is why Vectorworks is so committed to leaning into new technologies like Apple Silicon and ARM. That is also why we invest in re-engineering to modernise our design solutions, so these advances are available to our customers.  We owe it to our customers to continuously evolve our solutions to be used on whatever platform and architecture they require. That is what we are doing. And that is what we think will serve our customers best.
AEC Magazine: Solibri Direct is a very interesting combination of Nemetschek products. In certain countries with strong BIM standards, Solibri has been widely adopted for model checking within collaborative design. In countries like the US, less so as they seem to be stuck in RVT workflows and deliverables. What features do you think your US customers will get the most benefit from? Will you supply rule sets for common workflows?
Dr. Biplab Sarkar: The collaborative Nemetschek project of Solibri Inside was put into place for the very reason of making some of the great benefits of Solibri accessible to more customers. One of the wonderful aspects of Solibri Inside is that it is so simple for architects to run valuable BIM checks like door and window clearances and completeness of IFC data in the model with the free version. Being able to do that directly inside a product like Vectorworks Architect and do it quickly will save valuable time for architects in producing higher fidelity models with fewer errors. Plus, architecture firms can do this without the need to do an import/export exchange with model validation software. Basic rule sets for common quality checks are provided by Solibri and delivered their web portal, making them available inside Vectorworks.  This type of functionality and workflow really adds to the value of working in Open BIM workflows, and we believe integrations like this will truly help spark an increase in Open BIM usage in the U.S. and worldwide.
AEC Magazine: There is a lot of hype about Digital Twins. How do you define them and where will they be used?
Dr. Biplab Sarkar: We think that the "Digital Twin" emerging trend is primarily used currently in design and build phases of a building. The digital twin is supposed to incorporate with some sort of real-time sensors, which we believe is not utilised to the fullest extent. The management and operation of the building is where we see the sensor data mostly used. So, in that sense we agree with where the digital twin is heading. IoT sensors can add a lot of value for building owners and operators in terms of building maintenance, gaining noise and energy efficiency etc.
AEC Magazine: What is your view on AI in AEC? Where do you think it will make the most impact and in what kind of areas will you be deploying AI for customers? BIM is still very manual and ultimately produces 2D drawings, do you think AI will dramatically alter the workflows AEC professionals are used to today?
Dr. Biplab Sarkar: AI in the AEC industry is the same as it is in any industry now — full of potential that can cause positive disruptions and new opportunities to explore design and construction in a way that may have been limited in the past. The places we can see direct or immediate impact will be through some forms of automation through both ML and AI. And the biggest place of impact we'll see is in design discovery and exploration. We are already starting to see artists and graphic designers use tools like ChatGPT to discover or uncover stylistic elements that fit within a design brief, or a design problem being solved. It's not a far leap to see a similar application for architects, landscape architects, or lighting designers to generate various design iterations or to refine specific elements of a design idea through some form of automation provided by machine learning or AI tools or both. While BIM may be considered manual today, if we compare it to what simple CAD drafting has to offer, it has automated a lot of the tedium of project documentation leaving time to focus on design and innovation — and explore new materials and building applications. We think that AI can have a similar impact on the workflows of design professionals within the AEC industry.
AEC Magazine: New licences will only be available through subscription, what are the advantages of this over perpetual licences? Perpetual customers will be scared that you will force them, or price coerce them at some point to go subscription. It seems the software industry wants more money from customers, as subscription increases the cost of ownership. How does the cost of ownership compare and are there any additional features that subscribers get over those who upgrade at their own pace?
 Dr. Biplab Sarkar: With our transition into a subscription-based business model, we can now showcase the fruits of Vectorworks' continuous development cycle. With this model, we have increased the frequency of updates focusing on the consistent quality of the software throughout each version cycle and delivery of new functionality when it is ready instead of holding new functionality for an annual new version launch.
Subscription users also get added functionality that was not available to them in an upgrade at their own pace such as our Cloud rendering, document publishing, panoramic rendering, photogrammetry, up sampling and stylising images, and Cloud presentation features, just to name a few. Plus, subscription users get access to additional promotional offers from our technology partners and us and new templates and content libraries that are added regularly throughout the year. As we move into the future, there will continue to be more added functionality for subscribers.
Subscription licences also offer a lower upfront cost and allow our customers to purchase the products they need when they need them. Subscription licences may even allow customers to pass some costs back to their customers, making this option one of the most budget-friendly licensing options.
Pricing for Vectorworks subscription licences is competitive with similar software.
While cheaper options may exist, the same robust set of tools may not be at users' fingertips, and they could still need additional components to complete their tech stack — meaning the price may not actually be that different (and their workflow may become much more complex.) We're committed to offering best-in-class software that enables designers with robust capabilities and the freedom to follow any workflow at a competitive price.
---
Main image: The new Offset Edge tool in Vectorworks 2023 lets you offset edges and edge loops from planar and non-planar faces