Integration works two ways: BIM Track issues and models can be brought into VRcollab for resolution or created in VR and synced back to BIM Track for issue management
---
AEC-focused virtual reality software VRcollab can now be integrated with BIM Track, the web-based issue tracking platform for BIM coordination.
Users can take models and corresponding issues from BIM Track and bring them directly into VRcollab for interdisciplinary coordination in immersive VR and on the deskop.
Conversely, users can bring models into VRcollab directly from the BIM authoring software complete with metadata (e.g. Revit, Navisworks, Archicad, Rhino3D, SketchUp or IFC), select BIM Track as the issue manager, and then any issues created in VRcollab can be directly synchronised back to the BIM Track project for issue management.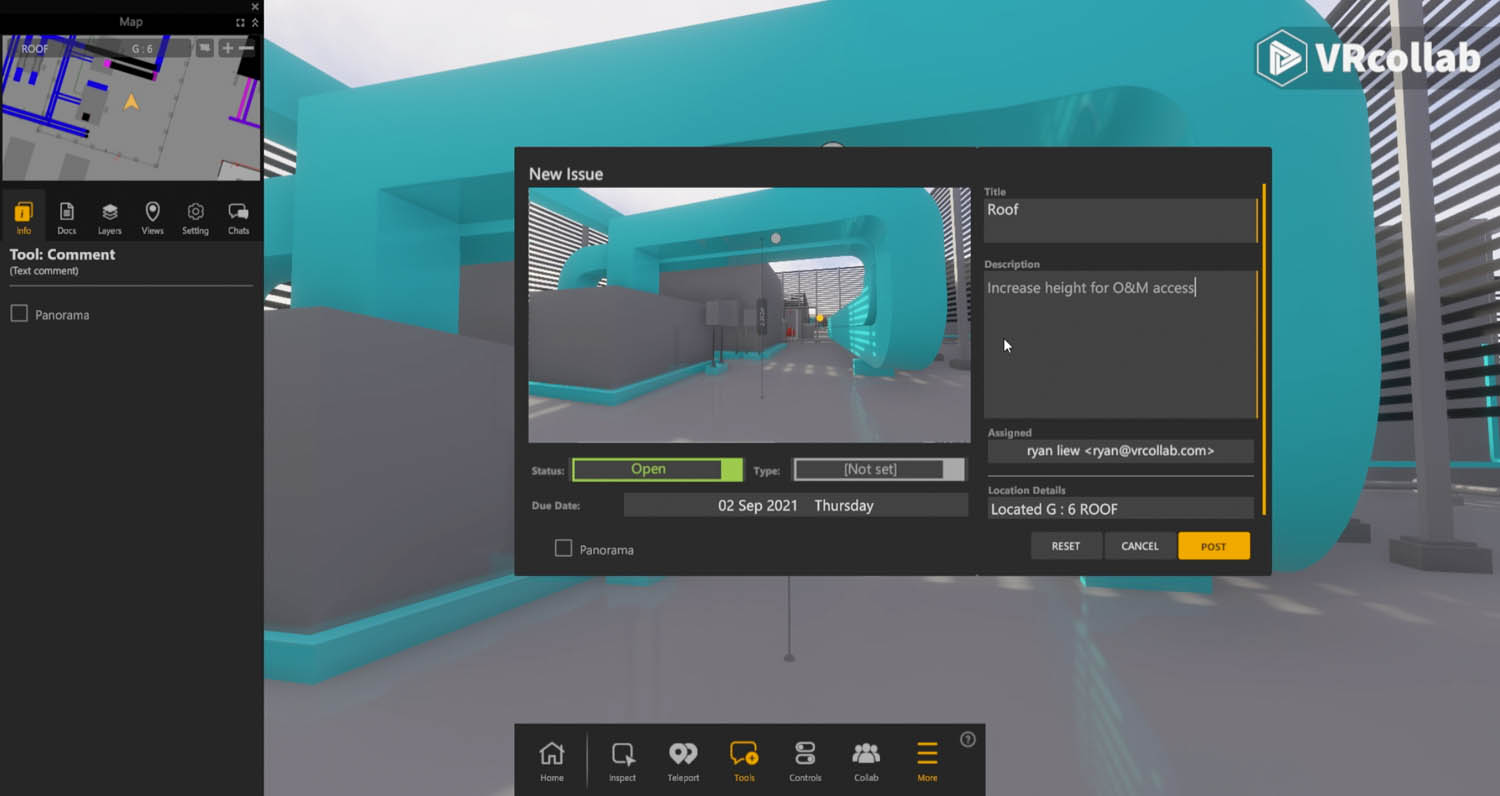 According to Muhammad Khalil, senior digital delivery manager, Boustead Projects, the streamlined workflow from BIM Track to VRcollab and vice versa has enabled the design-and-build specialist's BIM coordinators and BIM modellers to be much more productive and accelerate BIM co-ordination. "Now I think because of the seamless data integration, we cut the time by half," he says.
VRcollab supports multi-user design coordination, so teams from different locations can collaborate over the internet.
As the name suggests, the software is very focused on VR, but also runs on Windows desktop so stakeholders don't have to have a VR headset in order to participate.
The software places a big emphasis on high quality realistic real time rendering, so currently needs a workstation-tethered VR headset such as the HTC Vive, HTC Cosmos, Oculus Rift or Windows MR series.
However, the company is working on optimisations to bring the technology to untethered VR devices such as the Oculus Quest. It also supports shared immersive spaces like those offered by Igloo Vision.
VRcollab is also working on an iPad app for augmented reality, so construction teams will be able to overlay BIM models on site and then feed back any issues into BIM Track. You can learn more in the video below
There's also an X-Ray mode that can help highlight MEP objects within the context of the architectural and structural models.
Other features of VRcollab include teleport, voice-to-text annotation, walk mode, BIM object inspection, measurements (including snap), built in VoIP, and virtual laser pointer. Users have full control over layers and objects, so sub models, individual floors, specific objects or families of objects can be turned on and off.
VRcollab starts at $2,200 per annum for a concurrent floating licence with 'full features and no limits or restrictions.'
There are also several bundle deals that lower the cost per user.
Meanwhile, read AEC Magazine's round up of collaborative VR for architecture tools.